Products
Frames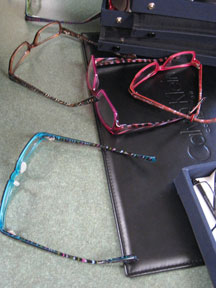 Eagle Eye has a great optical for all ages. For men we have a large selection of durable titanium frames. Children's frames come in twisty, colorful metals which withstand sports and the physical challenges of youth. Women have a variety of elegant, fun, sophisticated, colorful, and sporty looks from which to choose.
For recreation, prescription sunglass frames and sports goggles are available. OSHA approved safety frames are also in stock for industrial and hobby use.
Lenses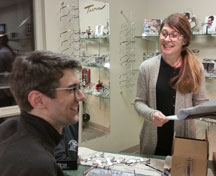 Lenses can look super! Technology is making lenses clearer, lighter, and more satisfying than ever. We will help analyze which products are right for you.
For instance, high-index lenses can cut lens thickness by 30%. Today's anti-reflection coatings are crystal-clear, repel water and oils like magic, and have a durable surface. Polarized sun lenses cut glare without turning the world dark - perfect for our squinty, hazy, Pacific Northwest days. Polycarbonate lenses address safety and pediatric needs.
Near tasks should be comfortable. No-line or lined bifocals give great vision for those starting to suffer from reading vision limitations. Prescription computer lenses are vital in today's workplace increasing productivity and stamina.
Contact Lenses
Today there are contacts which correct almost everyone's vision. We have over 1000 different prescription/brand combinations on hand for fitting. Lenses are available in single, bifocal, and astigmatism corrections. We use both hard and soft lenses for the best outcome.
Special-need lenses are available. Single-use lenses are convenient for children, recreational wear, or allergy season. Hyper-moist lenses help patients with dry eyes wear contacts comfortably. Lenses with more body make handling easy.